PHILANTHROPY AND WEALTH BULK SCREENING SERVICES
Thanks to our partner DonorSearch proprietary philanthropy database, NPO AUTHORITY provides the best bulk screening services in the industry. Our bulk screening services are comprehensive and timely, so you can efficiently identify the donors you need and focus on fundraising efforts.
Full Version Video Tutorial
Search Your Donors In Real Time
1,000 RECORD BATCH SCREENING
Submit lists of prospects to receive detailed and accurate wealth and philanthropic profiles. This dual-screening approach allows you to predict both the capacities and inclinations to give of your current donors. Send us lists, as big or small as you'd like, and choose the schedule that works for you. Send us over your donors in bunches of a minimum of 100
The screening service comes with a free manual review of your top prospects. In-house prospect research specialists manually verify information, which raises the accuracy to an industry-best 90%. This saves your development team valuable time during the qualification phase, so they can more quickly move into the cultivation stage with your top prospects. The screening results are returned to you via NPO AUTHORITY portal.
PLANNED GIVING SCREENING
Finding major gift donors and planned giving donors are two different tasks. Surveys reveal that 40% of planned giving donations come from donors who have not given large gifts in the past and are unknown to the organization's development officers. Planned Giving Prospect Identification (PGID) uses sophisticated modeling and analytics to identify donors who are most likely to support your organization with a substantial legacy gift. When back-testing a pool of 14,000 known donors, PGID identified 84% of the known planned donors. The NPO AUTHORITY/ DonorSearch's PGID rating indicates the likelihood to give a bequest on a scale from most to least likely.
The NPO AUTHORITY has teamed up with DonorSearch to offer you a suite of online tools to support your prospect research needs. Whether you're conducting a grateful patient program, pledge drive, or other fundraising campaign, this powerful online software provides the tools you need when you need them.
PROSPECTVIEW PLUS
Get the most detailed wealth and philanthropic profiles in the industry for every prospect you search. Filter searches to zone in on the best prospects. Perform searches on your mobile device. Our thorough reports detail:
• Traditional wealth markers to predict a prospect's giving capacity
• Prior philanthropic giving, including year, amount, type, recipient, and other data in order to predict a prospect's inclination to give
• Nonprofit affiliations
INTEGRATED SEARCH
Enter identifying information to receive data-rich comprehensive reports on prospects in mere moments.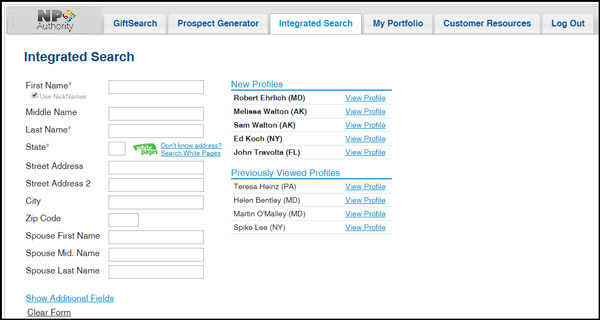 Integrated Search allows you to:
• Search common nicknames to increase both the accuracy and amount of data that a screening returns
• Add your own information to increase the accuracy of results
• View new and prior searches at a glance
The tool provides outlines on important wealth and philanthropic information, including real estate, relationships with other nonprofits and companies, stock transactions, and more. You can view interactive donor profiles, like the pie chart above, at any time. This brings the Excel spreadsheets that you receive from bulk screenings to life.
GIFT SEARCH
Sometimes the donors you want are hiding in plain sight. Search for all gifts given by an individual, couple, foundation, or organization. Gift Search lets you:
• View the types of causes and organizations that donors support
• Analyze giving patterns
• Filter donations according to year, amount, state, and other criteria
• Cross-research both donors and gift recipients
• Access annual reports where donations are named
• Use the annual reports feature to discover names of supporters who will help you to make connections with new donors
MY PORTFOLIO
Sort and analyze your data with this powerful reporting tool. Each researched prospect is automatically added to your portfolio for the convenient retrieval of information.

My Portfolio allows you to:
• Display an unlimited number of records
• Customize your search with an array of filters
• Experience fast searches and loading times to receive data when you need it
Your list of donors can be sorted and filtered according to various categories of information, as well as exported for further reporting and analysis. Links allow you to view individualized reports, such as those returned by Integrated Search, so you can pinpoint the data you need in seconds.
PROSPECT GENERATOR
Comedian and actor Milton Berle once said, "If opportunity doesn't knock, build a door." We say build a new batch of prospects. Discover new prospects on the donation lists of similar organizations. Organizations can be similar in mission, location, or other factors.
In addition to identifying the loyal donors of other nonprofits, you can:
• Research fundraising efforts by other organizations both to see how you compare and to complete a strategic review of your development goals.
• Find out more about a specific donation or organization.
• Research and export data for further analysis or reporting.
• Search by zip code and distance.
• Receive income and asset information for organizations.
• Use advanced search to search by year(s).
EXECUTIVE ANALYSIS
The amount of data provided by prospect research can be overwhelming, but this visualization tool makes it easy to understand your prospects at a glance without sacrificing important details.
Executive Analysis delivers visualized summaries of your prospect list as a whole, according to loyalty, philanthropy, and wealth, so you'll see:
• Giving potential of your donor list
• How much giving you're capturing from that list
• Organizations and causes that your donors support
• Political causes supported by donors
• Likelihood of giving a major gift
• Other information, depending on your development strategy
From pie charts to bar graphs, Executive Analysis makes it simple to understand your donors as a group, so you can make better-informed fundraising decisions.